How to use Facebook's Lead Ads to boost your social marketing strategy.
Mega social media platform Facebook has recognized the advertising benefits that it has to offer to businesses. In recent years, it has launched several advertising packages, including custom audience and lookalike audience marketing applications. One of their newest offerings is Lead Ads. To truly understand the power of this advertising model, marketers need to wrap their minds around metadata analysis and the potential movement of information via billions of people.
Understanding Clustering & Nodal Analysis
On any given day, there are more than one billion people on Facebook, yielding nearly a thousand terabytes of data per day. Without understanding large data marketing, advertising in this environment is like dropping ink in the ocean and hoping it that it spells out a message on a Florida beach. The large volume of data can dilute your message and deflect from your target demographic.
Marketing scientists researching Facebook advertising use nodal analysis to identify clusters of message recipients. According to the researchers, marketing messages move in simplexes, socially bonded clusters. Any advertising that you place on Facebook will be bounded by the social cluster of the recipient so part of your advertising goal is to place your message in front of people with large social clusters.
What Are Lead Ads?
Entering a cluster requires establishment with a central figure within the cluster. This is what Facebook Lead Ads hope to offer. This platform places ads onto the user's feed that allow the recipients to supply their information. The marketer is able to customize the information that is being requested. Facebook recommends using this platform for lead generation using newsletters, product demos, and coupon advertising. By collecting the correct information, the marketer can penetrate the node and establish a presence in the cluster. For example, coupon leads would require a "like" on Facebook, forcing the user to disseminate the business' marketing message.
Social Media Examiner has a step by step tutorial on how to create Lead Ads, here.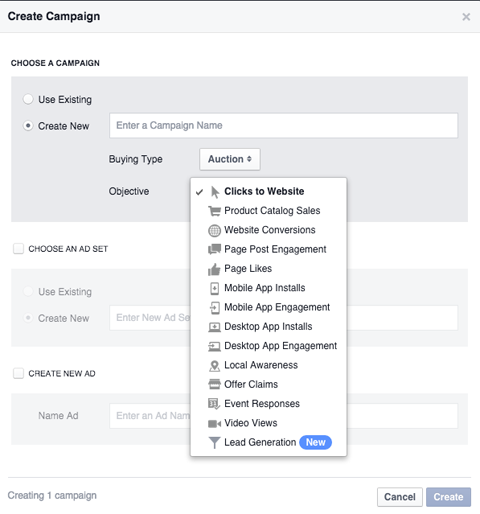 IMC with Ads
Having a powerful, authentic marketing message is an important aspect to commanding a cluster with lead ads. According to integrated marketing communication (IMC) theory, every marketing channel must hold the same marketing message or a set of synergetic messages. The Facebook message must match with email, billboard, and TV ads. The tone of the Facebook ad page should convey a specific message to the user.
Examples on two ends of the marketing message spectrum are LifeLock and DrinkZZZ. Cyber security leader LifeLock works with the relatively serious topic of identity theft so their Facebook information has a thoughtful tone that matches their message. Conversely, DrinkZZZ, which makes energy drinks and has ads with dancing sheep, has a fun, tilted sign up form that is in line with their marketing tone.
Penetrating the Social Cluster
Marketing has a large statistical component. To get the best results for Facebook Lead Ads, test them and then retest them. Collecting a person's name and email information does not guarantee a sale. It does not even assure propagation through a cluster. Every ad that you create should have a testing component. If you are verifying coupon use, then tag the coupons so that you know when and how they got used. If you are checking on propagation of a message, find out how the person got the information. Track the flow of your marketing message and, if it is not working, do not be afraid to try a new approach.