Your e Commerce Website Design Company for Practical E-commerce Solutions
Our eCommerce team has over 10 years experience in e Commerce landing page conversion optimization.

Practical E commerce means Smart and Simple E-commerce Solutions.
When it comes to setting up an E commerce store, your customers really do come first. Our e-Commerce website design company has a proven track record in creating successful e Commerce solutions for online businesses. From intuitive navigation to a simple one page checkout, we can help get your customers from A to B quickly.

The What's Up in Setting Up a Practical E-commerce Store:
We will provide you with our expert consultation on how to create a successful eCommerce store that addresses both custom brand identity and customer necessity.

If you're new to E commerce, here are some things that you should know:

Design a Simple Web Site: When we say design a simple site we don't mean a bare bones or "plain Jane" site that looks like a stock template. On the contrary, we specialize in custom ecommerce solutions to best deliver your brand message and an intuitive shopping experience.
When we say simple we mean that the site is super easy to use, so easy that non-web savvy individuals can surf the site and find what they are looking for quickly and easily. These same individuals also won't be deterred from checking out once they find their product — abandoned carts account for a large amount of lost sales, in fact, CPCStrategy released a study that showed 67.89% of shoppers abandon shopping carts. That is a huge amount of lost sales that we can help you avoid.
There are many great features for eCommerce websites, but that doesn't mean that you have to put everything on every page. We've found that successful eCommerce stores have strategic placements to achieve goals, not pages that are overcrowded with offers, ads, promotions, and unnecessary product information.
eCommerce = Shopping Cart: When designing an eCommerce website people should know where their shopping cart is at all times. A consistent and visible shopping cart not only makes it easy for people to checkout but helps create a trusted shopping environment.
The Call to Action: Every page of your site should be set up for a specific goal or (CTA), whether that goal is to find a product or purchase a product. People want to buy your products, but a little encouragement and clear direction goes a long way.
Consistent Brand Image: An eCommerce website must be cohesive throughout. Consistency is more than just brand image, with eCommerce it helps create an intuitive navigational environment, instills buyer confidence and reinforces your call to action items.
One Page Checkout: This is probably the most critical element in your store. By creating a checkout process that is as simple as possible you will be able to increase conversion potential dramatically. Successful eCommerce websites use features such as one page checkout and guest checkout to decrease bounces at the most critical point of purchase.
How Will This Improve My Average E commerce Conversion Rate?
As a leading e Commerce website design company, our practical ecommerce approach provides a custom tailored shopping experience for your customer. Practical means thinking of the consumer first, taking into consideration brand message, message delivery, ease of use, and functionality to deliver a personalized and intuitive online shopping experience.
If you're looking for the golden rules or magic stats about conversion rates you should know that there is no one-size-fits-all conversion rate that can be applied to your brand new store. There are plenty of statistics online about average conversion rates for industries, shopping categories and even device type (like the one shown below).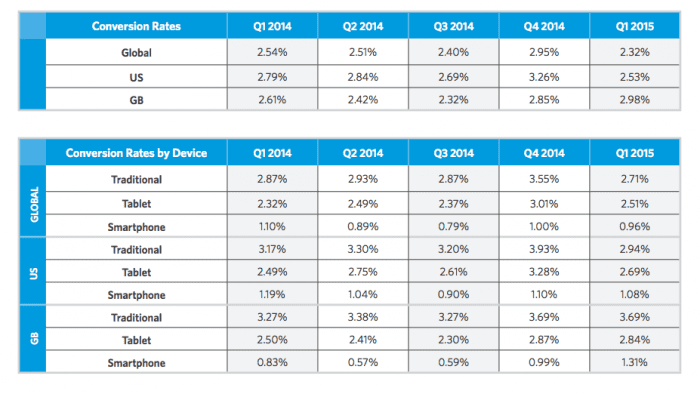 Image Provided by Monetate.com
There are also literally hundreds of technical ways to change an ecommerce website to improve conversion rates.
Skipping all the bullet point technical jargon, the best way to go from an average ecommerce conversion rate to performing well above average is to give your customers everything they want in the simplest possible package.
I know, you think I'm being elusive, but I'm not. If you take a look at any online store that has average ecommerce conversion rates of 1-2%, and then take a look at where customers are abandoning the site you will almost always find that it is at some point in the shopping/buying process where something got a little too complex. Think I'm kidding? Check out this post, 5 Psychological Principles of High Converting Websites (+ 20 Case Studies) from Kissmetrics with over 20 actual case studies.
We
have the team and expertise to provide truly practical ecommerce solutions to your business that will produce above average ecommerce conversion rates, just ask us how.
What Features Should Your Practical e Commerce Solution Have?
There is an endless list of features that can be applied to eCommerce solutions, but we've highlighted some key features that when setting up an Ecommerce store right from the beginning.
Security is Key. Secure hosting and secure checkout are essential. When processing payments you simply can not skimp on security. We use BigCommerce for the majority of our eCommerce solutions which means your store is hosted on lightning-fast SAS 70 Type II certified servers with a data center that employs hacker deterrent security provisioning, three redundant network architectures and hardware firewalls. All Bigcommerce stores are automatically PCI compliant, and are independently audited against stringent PCI security standards every three months. BigCommerce is featured on both Visa and Mastercard's lists of PCI-compliant providers.
Uptime. It's hard to put your best foot forward if your store's down. BigCommerce has an average uptime of 99.994%, well above industry average. That ensures your store will be available when shoppers want to buy.
Featured Promotions. Highlight certain promotions, usually seasonal, which can push traffic to specific parts of your website. For example, our client, Anthony.com features their Father's Day gift bags on their homepage the weeks leading up to Father's Day. This helps the Anthony team increase sales of these items, which are high in demand.
Product Search. Shoppers want to find it fast. Allow people to quickly search for products that they are looking for with an easy search and shop bar.
Quick Preview. Allow shoppers to view a product image and get a quick glance at the necessary details without navigating to a new landing page. This feature helps keep people on your site by letting them browse seamlessly without navigating multiple pages.
Suggest Products. Capitalize on a shoppers preferences by showing them products that are related to the ones they have viewed. This feature is the ultimate in suggestive up-sell.
Social Sharing. If someone has found a product they are looking for at a price they like on your site then make it easy for them to share it with their friends. Social sharing is a simple way to let people market your products for you.
Control inventory. View your entire inventory with a glance, at both the product and product option levels. Set low stock levels, automatically disable purchasing when no stock is available, and bulk update inventory levels.
Product Details. The Devil's in the details and so are your sales. When people shop online they are looking for two things prices and answers. When they finally find that product that they've been looking for don't lose the sale because the product details were inadequate.
Add A Dynamic Shopping Cart. A dynamic shopping cart allows shoppers to keep track of their cart on every page of the site providing a rich and smooth user experience.
Abandoned cart saver. The abandoned cart feature sends a series of emails to shoppers who left before checkout, encouraging them to come back. The result? An average of 15% of abandoned carts are converted to sales. And a detailed report shows you just how well it's working.
Mobile commerce. Mobile commerce is not a fad — any savvy business owner can recognize the advantage of reaching their audience anywhere and at any point in the buying cycle and mobile commerce makes it easy to engage your shoppers anywhere. Bigcommerce mobile store offers more than just browsing and buying — it's a fast, intuitive, fully functioning experience that works on all devices with nothing to install.
Shipping Cost Calculator. Shipping costs play an important role in the actual purchase of an item. It is an absolute must to provide with the ability to calculate shipping costs from the product page or shopping cart before going through the entire checkout process. Setting up all of these features to work together without hindering the shopper is what we work towards for every eCommerce site.
Order Confirmation. Order confirmations quell the uneasy nerves of online buyers from wondering, "Did my order go through, do I need to call and confirm that they received my payment?" It also provides a more personal touch to a rather impersonal buying process.
Powerful Analytics. Our analytics tools put a wealth of information at your fingertips. View daily store snapshots or measure performance over time for: Unique visitors, Orders, Conversion rate, Revenue and Order geographical locations. You can also identify top customers and reward those who show brand loyalty.
Website Marketing is a full-time job to say the least. If you have questions about getting your online business off the ground or if you are a seeking advice on how to improve your existing eCommerce website's visibility, drive traffic and increase conversations, contact us for consultation and read more about website marketing here.

Setting Up A BigCommerce Ecommerce Store:


White-Glove eCommerce Solutions for your business:
•Custom BigCommerce Storefront
•Customized Category & Product Pages
•SSL installation
•Product & Customer Migration
•CRM & Analytics Integration
•Email Set Up
•Shipping & Checkout Set Up
•Webgility Intregration for Quickbooks
•Mobile & Responsive Design
•15 Day Free Trial!
•No Credit Card Required!

1. Are you migrating to BigCommerce from another platform?
2. Are you starting up a brand new eCommerce business?
3. Do you need help boosting your online sales and improving online conversions?
Perfect. We provide Practical e Commerce solutions to meet any of these needs.
Why? So that you start selling as quickly and effectively as possible.
If you're looking to get your online business up and running quickly and easily with Enterprise level bells and whistles, then BigCommerce is the solution for you. As a leading website design company, we have worked with a LOT of eCommerce platforms. The first time we used BigCommerce we knew it was leaps and bounds ahead of most other platforms. With any eCommerce solution you can run into hurdles or limitations based on client specific needs, but BigCommerce meets 99% of the requirements for 99% of customers out-of-the-box. The biggest reason we invested time to become a preferred web design agency for BigCommerce is because it has such an easy to use client admin area and robust marketing features. Content management and website admin are key factors for the majority of online business owners. If a system won't integrate with how they do business or they can't maintain their store — it's not a good solution. BigCommerce not only works, it works well. BigCommerce is easy to use and comes with hundreds of built in features that are essential to building a successful online business.
Our role with BigCommerce is to create custom solutions that meet your needs and reflect your brand message. While the BigCommerce platform is brilliant, most people find that using a stock template or theme is not. At Pixel, we live and breath eCommerce and have over 10 years experience in eCommerce development for improved conversions and ROI.
What Should I Know About BigCommerce Before Migrating My Store or Signing Up For A New Trial Store?
You're definitely asking the right questions! While many hosted eCommerce platforms seem similar on the surface, there are most definitely differences between them all and often times this leads to false understandings of a platforms true capabilities. We like our partners to know exactly what they are getting into, what the benefits are and the potential downsides, especially if you're planning to migrate from another platform.
Click Here to See the Most Common Points of Concern When Migrating A Store to BigCommerce or Starting a New Store On BigCommerce.
[contact-form-7 404 "Not Found"]
Why Should I Choose Pixel Productions as my BigCommerce website design company?
Only choose us if you're looking for a partner that takes growing your business as seriously as you do. We specialize in creating custom BigCommerce solutions designed for success. We have a 100% success rate with our eCommerce customers, because we work hard to make them happy. Our expertise and our customer service is what makes us a premium BigCommerce design partner.
You've probably already noticed that there are quite a few design partners to choose from. Just a heads up, a pretty large portion of our client base comes from people who are unhappy with their former design and development team. So what is it that we do differently? We take YOU into consideration during the development process. Our design and development process is all about blending what YOU want and what YOU need and make that a reality. We don't just enhance the visual appeal of your store — we ensure that it is designed to funnel traffic effectively to landing pages built to convert visitors. Like BigCommerce, our design services are turn-key. We'll walk you through the entire process from design concept to launch. Oh, we'll also train you how to use your store just to make sure you are comfortable managing all aspects of the admin area. We're more than just a web design company — we're a business development partner.
Design and Management:
1. Easy drag and drop system
2. WYSIWYG content management system
3. Completely Customizable Design Solutions
BigCommerce Checkout Features:
1. Single Page Checkout
2. Guest Checkout Option
3. Abandoned Cart Feature
Product Management:
1. Sell Physical and Digital products
2. Flexible Product Options (size, color, etc.)
3. Bulk Edit Product – Data import/export
Promotions and Coupons:
1. Trackable coupon codes
2. Time-limited promotional campaigns
3. Gift certificates and wrapping
Great SEO Foundation Built In:
1. Title and header tags
2. Meta descriptions and keywords
3. Custom page URLs